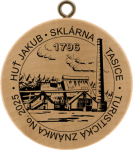 THE JAKUB GLASSWORK in Tasice was founded in 1796, and is the oldest preserved glassmaking factory in Central Europe. Throughout its history it concentrated on handcrafted glassware, its production programme varied, and in certain periods of time its products were famous all over the world. Production was terminated in 2002, and currently the factory is operated as a unique outdoor glassmaking museum, including a glass shop offering beautiful products by many leading Czech glassworks and artists. Resumption of operation on a small scale is planned.
The set of the buildings forming the glasswork complex is a singular conglomerate built between the 1820s and late 20th century, and an example of continuous development of industrial architecture.
In 2014 the glasswork complex has been nominated for being declared the National Cultural Heritage of the Czech Republic.
více na www.sklarnatasice.cz