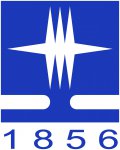 The Secondary School of Glassmaking in Kamenický Šenov was established in 1856 in order to provide education and training for the local glass painters and glasscutters as it was required by the glass producers of this region. Ever since its foundation the school has had an immense influence over the development of the glassmaking industry in terms of art, craft and technology. Its headmasters, teachers and graduates all contributed significantly to sustain the high quality of glassmaking.
It started with the traditional departments of glass painting, cutting and engraving and a new department dedicated to construction and creating of lighting fixtures. These departments have remained at the school until the present day. Its workshops have been the site where students, being led by their teachers, have continuously been making some remarkable achievements. Since the early 1990s students have also been able to acquire other glassmaking techniques including for instance glass blowing at a microwave melting furnace, making glass sculptures out of molten glass, sheet glass slumping, vitreography etc. They also make use of computer graphics created in 3D software.
The school is committed to do its best to turn students into fully qualified professionals in the glassmaking field. Thus students become designers of applied glass art, master craftsmen or simply people with creative capabilities. Most students continue studying at universities of technical education or colleges of fine arts. Then they take the jobs as glass artists, teachers, painters, sculptors and conservator-restorers.
There is a number of renowned bohemian glass companies that the school collaborates with. These include Preciosa Lighting Company, Moser Glassworks, CKV and Crystalex - just to name a few. Thanks to these partnerships students are enabled to get internship experience, they make some of their glass pieces there and they even seek and find employment there. Both students and teachers take part in international symposiums of engraved glass in Kamenický Šenov, they participate in glass exhibitions held both at home and abroad and they are often very successful. They also organize exchange stays with a German school of glassmaking in Rheinbach. The Secondary School of Glassmaking in Kamenický Šenov is a member of the Associated Schools Project Network of UNESCO. It organizes short-term and long-term courses of glassmaking for applicants from abroad. Being the oldest glass school in the world it still retains the traditional quality of craftwork uniting it with modern reality of the 21st century.
více na WWW.CZECH-GLASS-SCHOOL.COM