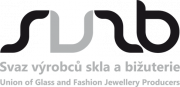 THE UNION OF GLASS AND GLASS JEWELLERY MANUFACTURERS is a business association established to organize and support mutual cooperation of its members, coordinate the satisfaction of their shared interests, and implement its programme.
The membership base of the Union is formed by 50 manufacturing and business companies,
4 art schools, and the Museum of glass and glass jewellery.
The key activities of the Union include:
supporting joint participation in fairs and exhibitions,
organizing the "Fragile Beauty" exhibitions in Jablonec nad Nisou,
establishing and supporting the Palace Plus glass jewellery centre in Jablonec nad Nisou,
promoting the tourism product "To Jablonec nad Nisou, in pursuit of glass and jewellery",
representing the members in the drafting and application of European standards regarding absence of defects endangering health and sanitation safety.
The Union collaborates with many institutions, e.g. the Czech Ministries of Industry and Trade, Foreign Affairs, Culture and the Environment, Czech Tourism, Czech Chamber of Economy, Liberec Regional Authority, Union of Industry and Transport, Union of Trade and Tourism, the Chartered Town of Jablonec nad Nisou and others.
více na www.svsb.cz