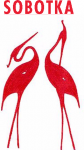 I have been making glass figures for more than 30 years, at first as an employee of the Železný Brod Glassworks, under the supervision of Víťa Petr, and since 1990 as a self-employed sole trader. I try to inspire each one of them with a singularity, irrespective of whether I spend several hours or days making it, and without regard to its size. I do not use moulds in my work. All the figures are blown from Czech-made narrow tubes over a burner. In other words, they are hundred-per-cent handcrafted. I present my works at exhibitions both in the Czech Republic and beyond its frontiers. Great public interest and above all children´s eyes watching me during my work strengthen my resolve to continue.
I am member of the Czech Chamber of Economy and of the Guild of Glass and Glass Jewellery Manufacturers of the Jablonec region. The right to use the trademark "Czech Product" and "Regional Product of the Český ráj Region" has been bestowed upon me.
I am holder of the "(Sole) Trader of 2013" award, won in a national competition.
více na www.sklenene-foukane-figurky.cz