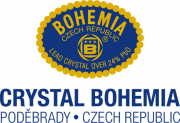 Brilliance, shine, glitter, high index of refraction, high level of craftsmanship and state-of-the-art technologies are the basic attributes of the 24 %- lead crystal ware made in the Poděbrady glassworks.
CRYSTAL BOHEMIA, a.s.
Long-standing tradition, creativity of the designers, wide assortment, flexible production and technologies, plus customers´ trust belong to the chief features making the operation of the Poděbrady glassworks so successful.
The glassworks was founded in 1876. Though more than once finding itself in a complicated situation, for instance during the two world wars and economic crises, it has managed to hold its own on despite tough competition on the market where its products have always been valued and received by customers with trust. Thanks to close cooperation of designers and process engineers with clients, a wide range of crystal ware is developing. The offer thus complies with all aesthetic and artistic standards, with respect to high productivity of labour.
The Crystal Bohemia joint-stock company offers its customers hand-blown and machine-pressed lead crystal ware for both everyday and occasional use. The assortment comprises thousands of products, including vases, bowls, baskets, candlesticks and other decorative items. Crystal Bohemia also makes bathroom and kitchen fittings and decorative products (chandelier parts, lighting fixtures, architectural elements).
The world-famous Bohemia B brand is registered and acknowledged in more than eighty countries and is a guarantee of unique origin, high quality, excellent properties and artistic value of the products.
více na www.crystal-bohemia.com