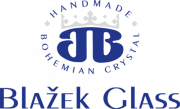 BLAŽEK GLASS is a company owned by the Blažek family, whose seven generations had been earning their living by making and decorating crystal glass till the 18th century. The first Blažek firm was established as early as 1933. Products from the Blažek workshops have always been winning customers throughout the world thanks to their high quality and originality.
As regards decorated crystal glass, new products are being developed all the time, handcrafted as well as made with the use of new technologies. In 1997, the company placed on both the domestic and world markets a totally novel, original product: a glass pile. This unique product has won a number of prizes in the Czech Republic and abroad, and now is patented in many countries all over the world.
BLAŽEK GLASS Limited manufactures and delivers to the whole world original glass piles, traditional decorated crystal glassware, crystal urns, trophies, glass jewellery and other glass products. It has been scoring greatest successes on the markets of Germany, United States, France, Great Britain, Japan etc.
více na www.blazek-glass.cz